Cynthiana, the county seat of Harrison County, is located in the North Central area of the Bluegrass Region of Kentucky. The town lies on both sides of the South Licking River with the main fork of the Licking passing through the Northeast corner.
The region is characterized by fertile farmland and gently rolling terrain. Distinctive architecture, history and quality of life walk hand in hand through the beautiful landscape of Harrison County. The town is 25 miles from Lexington, KY, 18 miles from Georgetown (location of Toyota Manufacturing) and 50 miles from Cincinnati, Ohio. The close proximity to larger cities provides visitors and workers easy access to Cynthiana to enjoy its rich history.
Cynthiana also boasts several manufacturing companies such as 3M, which produces the famous "Post It Notepad", and Bullard Co. which manufactures a wide range of safety equipment. The community has been desirable place to live and work since being chartered as a town in 1793.
Downtown Cynthiana merchants have inherited a remarkable cultural resource – well designed and high style architecture from America's elegant Federal period, from the exuberant Victorian era and from the boom years on the twentieth century. Meanwhile, revitalization efforts in the downtown area continue to keep the town as the hub of the community.
The rural, small town atmosphere with its emphasis on family, friends and neighborhood is perhaps its strongest asset. Signs located at the perimeters of the town offer a hint of the community's hospitable nature. It reads:
"THANK YOU FOR VISITING CYNTHIANA, A CITY AS NICE AS ITS NAME!"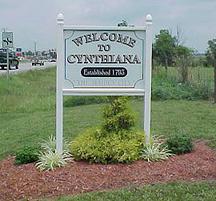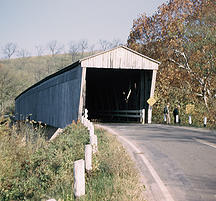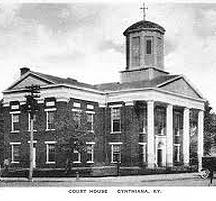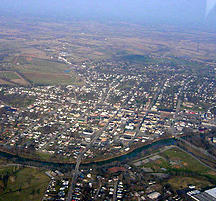 Harrison County is a county located in the U.S. state of Kentucky. It was formed in 1794. As of 2010, the population was 18,846. Its county seat is Cynthiana[1]. The county is named for Colonel Benjamin Harrison, an advocate for Kentucky statehood, framer of the Kentucky Constitution, and Kentucky legislator.
History
Harrison County was formed on December 21, 1793 from portions of Bourbon County and Scott County. It was named after Colonel Benjamin Harrison, an early settler in the area. On June 11–12, 1864 the Civil War Battle of Cynthiana was fought near Kellar Bridge. On the first day, Confederate General John Hunt Morgan and his 1,200 Kentucky cavalrymen captured the town, making prisoners of its Union garrison and the entire 171st Ohio Infantry Regiment. Despite being low on ammunition, Morgan chose to stay and fight the enemy forces he knew were on their way. Union General Stephen G. Burbridge and his 2,400 cavalry and mounted infantry attacked him the next morning, driving the outnumbered Confederates from the town and freeing the prisoners.